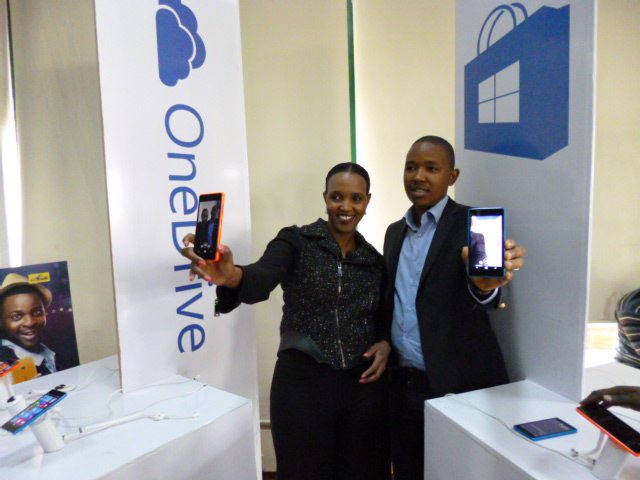 The Microsoft Lumia 540 Dual SIM was officially announced back in April and joins the Lumia 535 that was launched late last year. The Lumia 540 Dual SIM now available in Kenya is more of an upgraded Lumia 535 and like Microsoft Mobile Devices General Manger Mariam Abdullahi puts it, "The Lumia 540 is the Lumia 535 on steroids."
The Lumia 540 is priced at Ksh 17,800 which is quite competitive and puts it closer to the Lumia 640 that is currently retailing at Ksh 19,999. Microsoft says this price point is "a smart choice for value-conscious smartphone buyers."
Read More: Microsoft introduces the Lumia 640 and Lumia 640XL in Kenya
The Lumia 540 Dual SIM has a 5 inch HD display, an 8MP main camera with LED flash and comes with Windows Phone 8.1 straight out of the box. This will be upgraded to Windows 10 Mobile when it becomes available later in the year. The phone also has a 5MP front facing camera with a wide angle lens that makes it easier to take selfies with more people in it.
Commenting on the Lumia 540 Dual SIM, Mariam Abdullahi, Microsoft Mobile Devices General Manger said, "The Lumia 540 Dual SIM is a welcome addition to our affordable smartphone portfolio running on Windows Phone 8.1 operating system and Denim update." She went ahead to say, "With 67% of all phones sold in Kenya in 2014, an estimated 1.8m devices being Smartphones, the growth of the Lumia portfolio presents a great opportunity for the discerning middle class Kenyan to own a smartphone that helps them increase their productivity in their personal and work life."
The Lumia 540 in Kenya comes preloaded with Microsoft services such as Skype and Office to ensure you stay productive on the go.
Powering the Lumia 540 is a 1.2 GHz quad-core Qualcomm Snapdragon 200 processor coupled with 1GB of RAM and 8GB of storage space. There is room for a 128GB MicroSD card and an extra 30 GB of free cloud storage on OneDrive.
"A study conducted by our partner – Jumia Kenya discloses that top smartphone purchase drivers include Battery capacity, brand type, Camera / imaging capability and price. With this in mind, Lumia 540 is without a doubt, is a natural choice for people ready to experience their first serious smartphone. It provides the essentials you need to achieve more every day, alongside popular apps and smartphone experiences that make using the smartphone great fun," added Mariam.
Read More: Microsoft Announces the Lumia 540 for the Young and Ambitious People Looking For Their First Smartphone
Achieve More Campaign
Microsoft is currently running the achieve more campaign that will see a select number of people buying new Lumia devices (including the Lumia 540 Dual SIM) win 40 Lumia 640 XL  devices and five Chevrolet Cruzes (two have already been won, there are still three to go).
To participate in the consumer campaign, all you need to do is purchase any Lumia phone with a valid 12 months warranty in Kenya (including the Lumia 540) activate it and send a text message containing IMEI number to 22860before 30th June, 2015. Winners will be contacted via +254 2301641 and announced on the Lumia EastAfrica Facebook and Twitter pages.
Read More: Second Winner of a Chevrolet Cruze in Microsoft's #Achievemore Campaign Has Been Announced