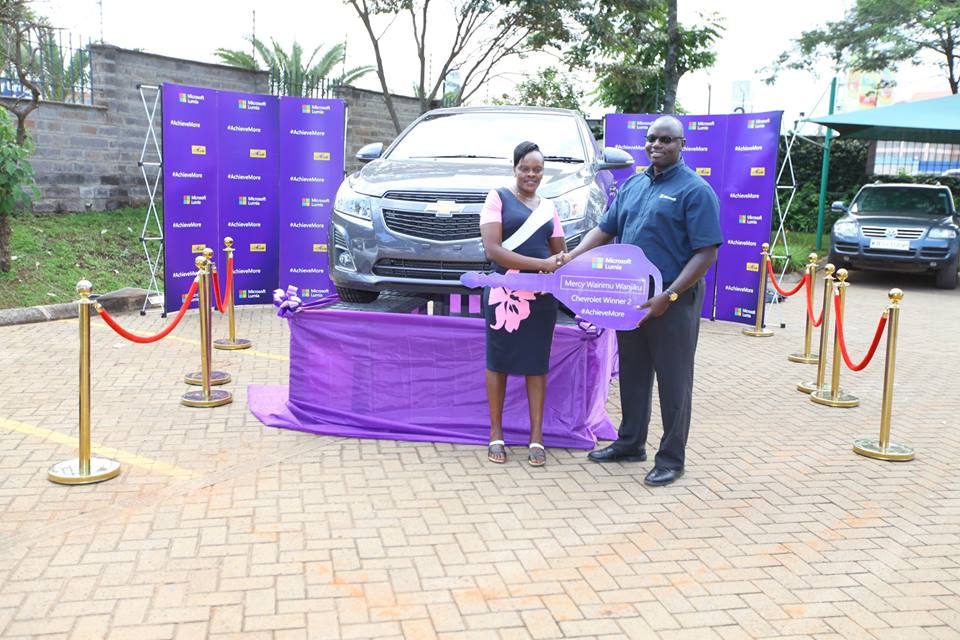 Microsoft East Africa is currently running the achieve more campaign that will see five Lumia buyers each walk away with a Chevrolet Cruze. The campaign is already on and will end on 30th June so you may want to get with the program if you haven't already. The first winner was announced about a week ago with the second winner announced this past weekend.
Read: The First Winner of the Five Chevrolet Cruze's in Microsoft's #AchieveMore Campaign Has Been Announced
The second winner is Mercy Wanjiru who was given the keys to her new car last week as you can see from the photo above, congratulations to her!. There are still three more Chevrolet Cruzes to be won so do not give up just yet if you have not won.

If you want to try your luck in this campaign, all you have to do is buy any Lumia smartphone between now and June 30th. If you do not win the car, you may stand a chance to win one of the many Lumia devices Microsoft is giving away each day.
After buying the Lumia device, send the IMEI by text to 22860 to be entered into the draw. You can then sit back and see if luck is on your side.
Again congratulations to Mercy Wanjiru and good luck to those who are taking part in this competition.
Read: Microsoft Announces The Nokia 105 and Nokia Dual SIM Mobile Phones That Can Give You Upto One Month Of Battery Life