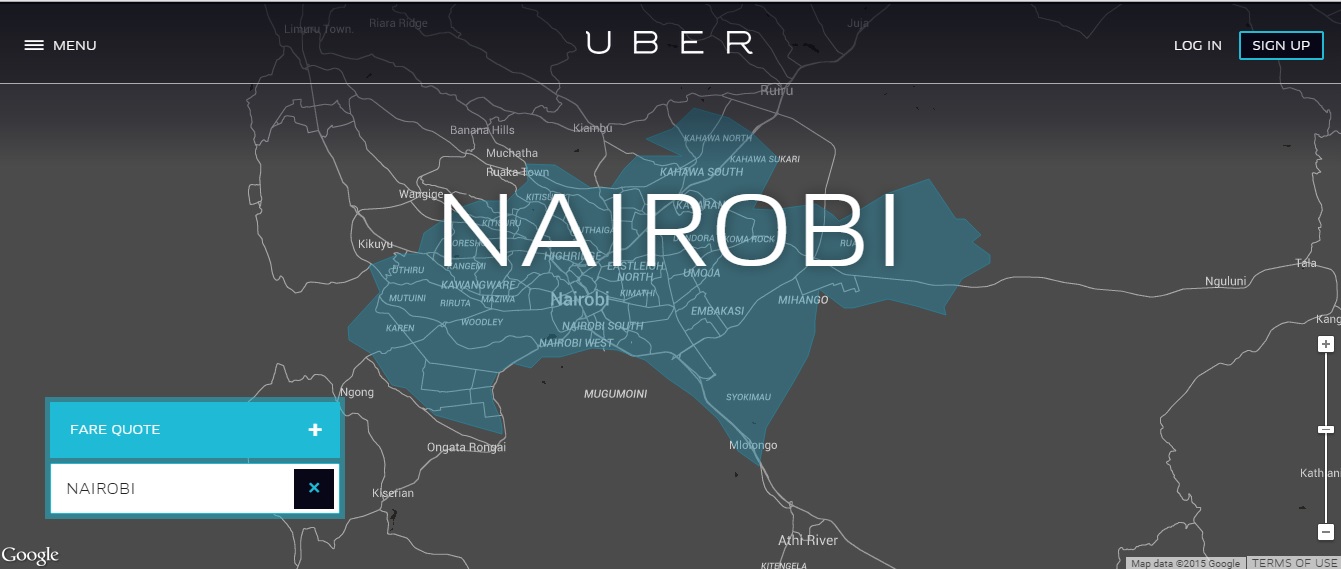 Uber has been available in Kenya since January this year (2015). Launching in Kenya this year, Uber was not the only taxi hailing app in the country as it joined the likes of Easy Taxi,  Sasacabs and a few others. The question to ask is, will Uber disrupt the market in Kenya? Does the company have any chance of success? With these questions, you will get different answers depending on who you ask. Before I jump into any conclusions, let us first look at why Uber has been so successful in other markets.
Benefits for Customers
In most cases, getting an Uber is slightly cheaper than getting a cab. Business Insider did an analysis and found out just how cheaper Uber is compared to traditional cabs. With the cost of everything going up, we all try to save some money when we can.
Uber also offers a level of convenience you will not find with a normal cab. You can just sit in your office and request for a cab, wait for it to arrive before you get out of your office.
Uber also focuses on the quality of services its customers get. The vehicles are clean and the drivers professional adding something new to the taxi industry.
In the developed countries, most people pay for almost everything using their credit cards. Using a traditional taxi requires you to pay with cash. Payment for Uber services are through credit cards and this settled very well with most customers in developed countries. They saw it as a convenient and safe way to pay for their rides. The fact that the price to be paid can be approximated before the cab is requests assures customers that they will not be conned.
The early adopters who got to enjoy Uber's services also played a big role in its success. These early adopters had kind words about the service and it got other people interested in it.
For Drivers
The benefits for drivers are straightforward, more rides and therefore more money. The drivers do not have to move around looking for customers. Uber's also have the safety feature in that you know who is getting into your taxi before they do.
What about Kenya?
Now we have looked at Uber and its benefits in other markets, the question to ask is, what about Kenya?
When Uber launched in Kenya, nothing about it was localized. Everything was lifted from its international operations and reciprocated that in Kenya. This is not a bad move and is actually what most startups do these days, It saves them a lot of time and money. To figure out if Uber has any chance of success, let's look at the factors that contributed to its success internationally and see if these factors will work in their favor in Kenya.
Kenyan Taxi Drivers
In Kenya, there are so many taxi drivers that it sometimes does not even make sense. With the huge number of drivers, the profits each make is usually low. With Uber, most of these drivers will have a chance to get more customers. Since you will be requesting for a cab while still in the office/house, you do not have to approach the taxi drivers physically. When the customer requests for a cab, driver's within a certain range will be able to see the request and the one who accepts it is the one who will be able to pick the passenger. This means that drivers can get passengers they would have physically not be able to get before. What this means is more rides for them and therefore more money. For this main reason, Uber will be a success among Kenyan taxi drivers.
For The Customers, The Story Is A Little Bit Different
Using an Uber in Kenya is slightly cheaper compared to getting a cab the usual way. I have compared Uber and Easy Taxi's prices in Kenya and they seem to be the same. I compared the two in just one route so they may vary in your particular situation. In short, Uber is cheaper that the taxi's operating in Kenya and this will attract new customers.
Read: I Finally Used Uber and Here are my Thoughts on the Service
In Kenya, finding a taxi is not as difficult as most developed countries. In an article on savannah.vc, Malaika Judd wrote,
Uber launched in San Francisco with the aim to ride in class. Quickly they realized their other value add – being able to find a cab on the road within minutes. In Kenya, you can find cabs everywhere. They're lined up on the side of the road ready to compete with each other to win your business. So what are we trying to solve here?
This clearly shows that the taxi hailing apps in Kenya do not solve a real problem. Of course they make life easier but since you can find a taxi in every street corner in Kenya, many people may not see their benefits. With this in mind, I do not see the likes of Uber disrupting the taxi industry as such. They might be beneficial in some situations but not all the time.
If you have used Uber, you will agree with me that the quality of service you get is much better compared to the traditional taxis in Nairobi. With this in mind, Uber will definitely attract new customers in Nairobi. Who doesn't want to get quality service? I bet no one, right.
For payment methods currently available when using Uber, I have a big issue on this. Currently, you can only pay using your credit card that should be linked to the app before you request for the cab. This is my biggest problem with the app, I believe other payment methods should have been used.
So does Uber has a chance of success in Kenya?
At the moment, the answer to this question is a resounding no. Right now, Kenya's Uber is just a reflection of its global services and I believe this is where the problem is. Don't get me wrong, Uber is a great service but I think they should have 'Kenyanised' its services to attract local customers.
To start with, having different payment methods is required. Very few people use credit cards in Kenya and I believe Uber needs the numbers to break even. Considering the high customer acquisition costs, Uber needs to have a huge customer base if it is see a good returns on investment. Uber needs to incorporate other payment options to its service or risk losing to other market players including Easy Taxi.
At the moment, Uber is just a cool company but as time goes by, its coolness (especially here in Kenya) will fade meaning that its solid business strategies will determine its success or not. Even with the convenience and quality of service, Uber needs to adapt to the Kenyan system if it is to see any chance if success.
Do you think Uber will succeed in Kenya? Why? Tell me in the comment section below.