Forget the #bendgate trending dilemma this is real and here to stay.Kyocera Proteus is a smart phone that can actually be bent to any angle ,may be you would prefer it on your arm as a smart watch or am band.A media event at CEATAC Expo In Japan put the "shifter" phone to the test for the ultimate bending duel.The Kyocera smart phone bend at stunning angles and limits,making most people wonder if the phone had any hardware components that would break.Some have also nicknamed the smart phone as the gymnastics Smart Phone.However this is no new news to individuals who follow on tech news or attend exhibitions on tech reviews.It is easy to become fascinated by some of the high tech product concepts seen at exhibitions. The best of these are a blend of highly creative industrial design and technology that is at, or even just a bit beyond, the state of the art. In the world of displays, perhaps the most interesting product concepts put forth during the past few years have embodied wearable and flexible displays.
Kyocera has had always a trend od producing super amazing products and devices that have always been catchy and fascinating to tech fanatics.The Kyocera/collapsible smart phone is yet another kiddo from the Company that promises  to give more fascinating gadgets.The Kyocera Proteus is believed to be a three in one gadget.Proteus will have biometric sensors on the back, much like the Apple Watch, or the LG G R Watch , with a heartbeat monitor that will kick in when you wrap the flexible phone around your wrist. The company doesn't stop here, though – it envisions that Proteus would use a frameless OLED panel, and segmented batteries, as well as integrated keypad with shape memory, that will go back to flat when the keyboard is not in use.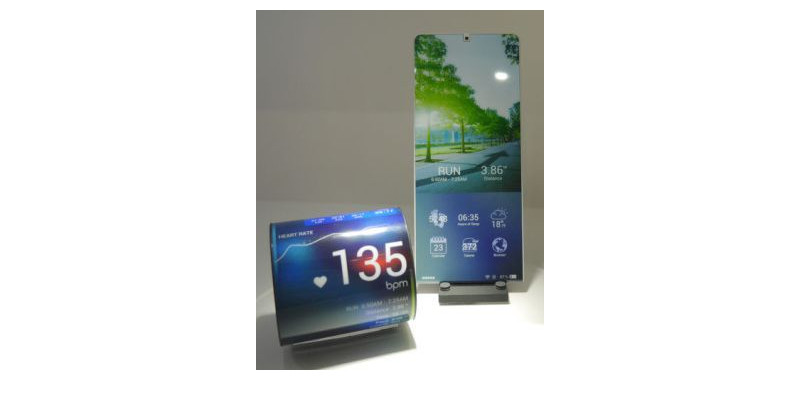 Whats Fantastic And Catchy about This Smart Phone
1.Can be wrapped around like a smart watch/bracelet
2.Just like a normal smart phone the device is hand held and can be used as a convectional smart phone.
3.It can also be draped or wrapped over a thin rail. This configuration is referred to by the company as "clip style" and could, for example, be used by someone riding a bicycle, in which case the Proteus could be clipped to the handlebar.
4.Frame less Super Amoled HD screen.
5.Integrated key pads. One interesting proposal is to utilize keys that have shape memory. With this capability, the keyboard would present a flat surface when not in use. A kinetic charging method based on piezoelectric generators could be used to bring the keys back into shape when desired.
6.Battery Technology.Design that is based on the inclusion of piezoelectric generators within the device. This approach is intended to turn the kinetic energy associated with folding the device into an electric charge.