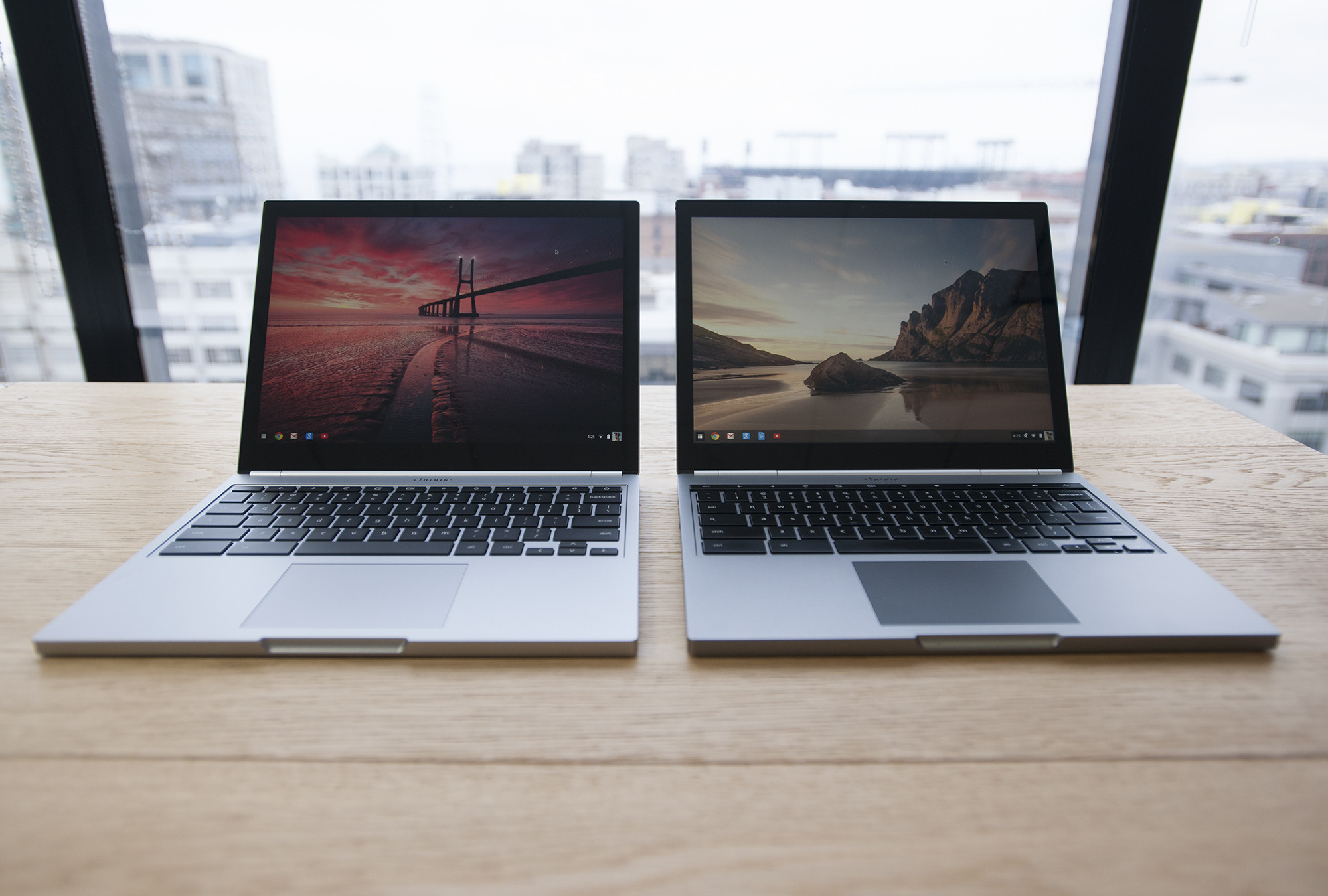 A few days after we told you about Google's upcoming touch screen laptop Google finally made their new ChromeBook Pixel on Google Play. The internet dependent ChromeBook (like any other; such as Samsung and Acer) is now available for purchase from Google Play. The Wi-Fi version will cost you around $1,299 and the LTE version that will cost $1,449. Although many view the price as a 'premium' one, the machine has a lot to offer and puts Google on the same level as Apple and Microsoft that ventured into both hardware and software fields. The Pixel has the following to offer;
Screen – Resolution
The ChromeBook has the highest pixel density (239 pixels per inch) of any laptop screen in the market today. The ChromeBook pixel comes Packed with 4.3 million pixels; this display offers sharp text, vivid colors and extra-wide viewing angles at 178°. The 12.85-inch screen has the highest pixel density of any laptop, and a 3:2 photographic format designed for the web puts every one of those pixels to good use. 

Superb Touch – Glass touchpad
The screen is very rich and engaging which makes the user want to reach out and touch it. Touch makes it simple and intuitive to do things like organize tabs, swipe through apps and edit photos with the tip of your finger.
The feel and precision of a touchpad is one of the first things you notice about a laptop. The screen is made from etched glass, analyzed and honed using a laser microscope for exceptional smoothness and accuracy.
Speed
Speed has been a core tenet of Chrome and Chromebooks since the beginning. Powered by an Intel Core i5 Processor, 4GB DDR3 RAM, Intel HD Graphics 4000 (Integrated) and a solid-state Flash memory architecture, the Pixel performs remarkably fast. The Pixel boots-up in seconds and stays fast, requiring almost zero setup or maintenance.
Connectivity
The Pixel has an industry-leading Wi-Fi range thanks to carefully positioned antennas and dual-band support.
It also has two USB 2.0 ports, a mini-display port and 2-in-1 card reader supporting SD, MMC 
Storage
Since this Pixel ChromeBook is for people who live in the cloud, one terabyte of Google Drive cloud storage is included with the Pixel. This enables you to save, access and share photos, videos, documents, and all of your stuff from all of your devices, from anywhere. It also has 32 GB solid-state drive (64 GB for LTE model)
Backlit keyboard
Backlights in the screen and keyboard respond to both the room's ambient lighting and how Pixel is being used. For example, when watching a full-screen video, the keyboard automatically dims to an appropriate level.
Body Build
The Pixel is made from an anodized aluminum alloy to a tight tolerance, leaving nothing extraneous or distracting: vents are hidden, screws invisible, and stereo speakers seamlessly tucked away beneath the backlit keyboard. The Pixel also has powerful, full-range speakers for crisp sound, a 720p HD webcam for clear video, and a total of three microphones designed to cancel out surrounding noise.
Integrated features
All of your favorite Google products like Search, Gmail, YouTube, Maps and Google+ Hangouts are integrated and just a click away. Best of all, it stays up to date with automatic updates every few weeks.